Rubber sheeting is the basic material for protection, sealing and damping. Our workshop processes
rubber sheets by cutting, gluing and/or die cutting in order to manufacture the needed rubber product.
Our rubber sheets are divided to different categories.
Comparable features are among other things:
Hardness
Density
Temperature range
Tensile strength
Elongation at brake
True strain after compression
Resistance to air ageing
Ozone resistance
Oil resistance
Chemical resistance
Abrasion resistance
UV resistance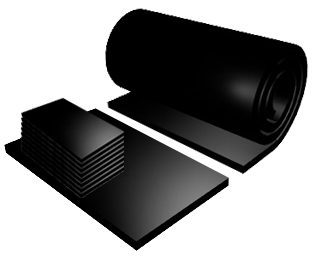 This catalogue gives guidelines and is compiled to help our customers to choose the adequate product. As individual conditions influence the application of each product, the information in this catalogue can only be used as a rough guideline and should not be used as the sole basis when choosing a product. In every case it is purely the customer´s responsibility to evaluate his individual requirements, especially if the specified properties of our products seem to be sufficient for the intended use. When intending to use our products in demanding conditions (e.g. heat, exposure to chemicals), do not hesitate to contact us.
All the information and data in this catalogue correspond to standards based on long term tests and trials. We cannot guarantee the information and data to apply in any individual case, particularly when we have no influence concerning the application and individual use. The use of our products is at the user´s own risk. Naturally we guarantee the quality of our products according to our general sales conditions, available at request.
We keep the information and data in this catalogue updated, in order to give you the best possible knowledge of our products. All given information is subject to alteration without prior notice.